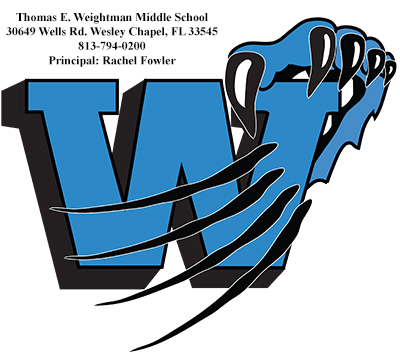 Students interested in joining Weightman Middle FFA should see Ms. Benson during study hall in the media.  The first FFA meeting is scheduled for Monday, Aug. 27 after school in room 725. ...
Hello Wildcat Families, Welcome you to the 2018-2019 school year; and to share a few important aspects about our 1st week in school. When students come on campus in the mornings, 6th graders will stay in front of the 400 building, 7th graders in front of the 800...
In 2018, the state of Florida established Reading Scholarship Accounts to provide supports for public school students in grades 3-5 who struggle with reading. Students who received a Florida State Assessment (FSA) Score of Level 1 in English Language Arts (ELA)...
This year, all schools are using the Acorn Student Fees system in place of School Pay. This secure, streamlined system enables parents to pay fees and add school purchases to their shopping cart for multiple children at different schools, and complete transactions...
Free and reduced-price meal applications for the 2018-19 school year are now available by clicking here. If you already received a Direct Certification letter, you do not need to complete an application, and only one application is needed per household. Second, school...
PASCO COUNTY SCHOOLS, TEWMS, ACTIVITIES, AND FUNDRAISING CALENDAR